City-Wide Parking Ban in Edmonton

4

min read
Reading Time:
3
minutes
In Edmonton, Canada, the winter weather is often mercurial. Snowfall and freezing rain can occur at a moment's notice, making the roads slippery and unsafe for driving. For instance, in October 2016, Edmonton's public roads saw an astounding 285 collisions on the first significant snowy day of the year! With the parking ban in Edmonton coming into effect, the public administration is officially at war with snow.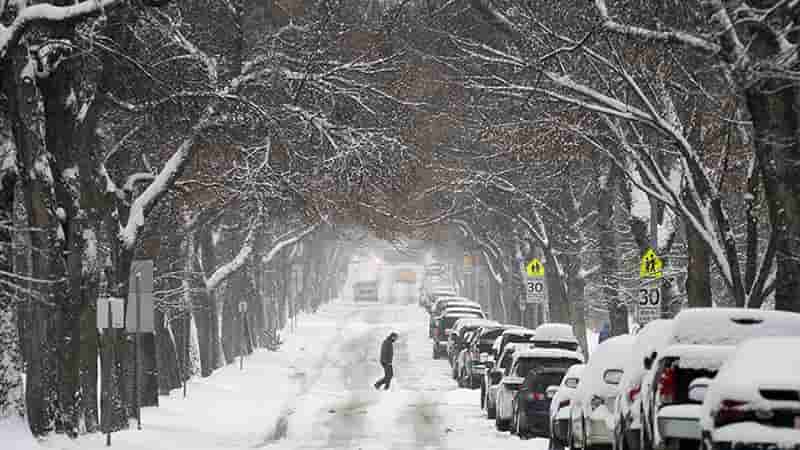 The public administration uses sanding, roadway plowing, and neighborhood blading to keep roads safe for driving in winters. In October 2020, the city council announced a 2-phase parking ban for snow-clearing. The idea was to keep vehicles off the streets while the crew cleared away snow and ice. After completion, the authorities would lift the ban, and people could park their cars on public roads again.
Let us look at Edmonton's seasonal parking ban and explore how smart parking solutions can augment this initiative.
The 2-phase parking ban 
In the past, Edmonton's snow-plowing crews had to navigate around vehicles parked on the street. As a result, they were slow to move and could not clear off snow effectively. However, residents demanded quicker service and clearer roads.
The solution was a 2-phase parking ban. In Phase 1, city plows cleared arterial roads, collector roads, bus routes, and business improvement areas. Parking was banned from these roads but was still allowed on residential streets.
During Phase 2, crews cleaned the snow from residential and industrial streets, and residents were allowed to park on available on-street parking spaces cleared during Phase 1.
Also Read: Why England is Planning to Ban Pavement Parking?
The parking ban's impact on citizens
The parking ban in Edmonton was a shared responsibility among the citizens and the administration, and citizens had to be duly informed about the decision.
"The city will focus on education before enforcement."  Brian Simpson, Branch Manager for Parks and Roads Services, Edmonton.
Citizens were given an 8-hour notice before initiating Phase 1. The city put up signs in neighborhoods where crews were scheduled to clear roads. Residents were also warned about fines and towing protocols for violating the parking ban.
Phase 1 of the 2020 winter parking ban lasted for 48 hours. Phase 2 lasted for 72 hours for each community and 5 to 7 days for the whole city.
Further developments
Edmonton's parking ban succeeded in ensuring clearer roads that are easier and safer to navigate in winter. Since 2020, Edmonton has continued to impose winter parking bans annually to make roads safer for commuters and commercial vehicles drivers.
Citizens can now sign up for email and SMS update alerts and check the city's social media feeds to confirm if a new parking ban is underway. The city's official website also provides citizens access to their snow and ice-clearing route status map.
This map depicts the priority of roads for snow clearing and when their clearing will start. It also shows which roads come under which phase of the parking ban. When parking bans are in effect, the map displays the status of road clearing operations. Citizens can type in their address or zoom into the map to see which phase of the ban will affect their neighborhood.
Alternative parking options
Edmonton provides alternative parking options in select parking stalls and lots during the parking ban. Currently, 115 individual stalls and 20 parking lots are available. Other locations such as parks and public libraries are also used as alternative parking locations.
The snow-clearing crew clears snow and ice from these alternative parking spots on high priority and maintains them throughout the ban. The allocation of parking spaces works on a first-come, first-served basis. Law enforcement officers handle warnings, tickets, and towing in these stalls.
The road ahead
With IoT-enabled Smart Parking Solutions available, the city can manage parking bans more effectively. Citizens can view available parking stalls in their area and make parking arrangements prior to the ban's announcement.
If heavy snowfall continues, local authorities can notify contractors and snow-clearing crews if their streets and parking spaces need immediate work.
Ultimately, a systematic and well-executed ban with the help of intelligent parking systems will help achieve safe travel conditions as quickly as possible.