QR Code in Parking lots: How Does It Work?

3

min read
Reading Time:
3
minutes
Car ownership has increased dramatically in the past few years, and it has inevitably led to the worsening of the parking crisis. QR codes in parking lots seem to be the perfect solution to ameliorate the situation.
Drivers have to face a dearth of parking spaces, congestion in garages and parking lots, and long payment processes. Parking operators struggle with managing parking spaces and keeping up with payments. Fortunately, we now have technology like QR, that has the potential to address all these issues in one go.
If you're curious about how QR technology can enhance the parking experience, here's all you need to know.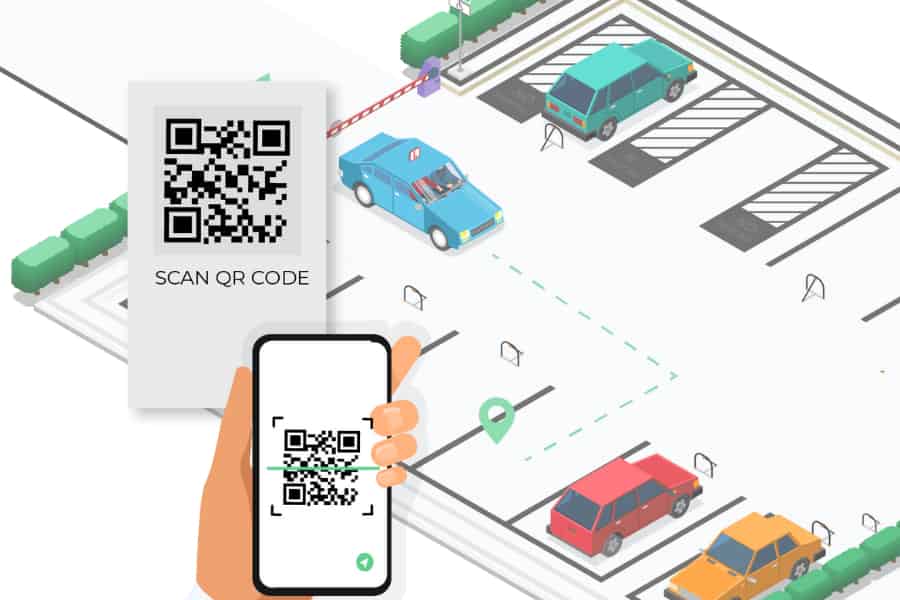 A QR (or a Quick Response code) is a matrix barcode that stores unique information that can be deciphered with imaging devices. On scanning a QR, the imaging device, usually a smartphone, converts the code (stored in the square grid) into characters. These characters often command the scanning device to perform specific functions like redirecting the user to open apps, links, etc.
How do QR Code Payments Work in a Parking Lot?
QR code-based payments often work in tandem with smart parking software to make parking more convenient. Parking lot owners install a QR code at the entrance of their parking lot. This code when scanned directs car owners to the payment portal, through which they can book and pay for a parking space.
Once the online transaction is complete, both the admin and the car owner get notified about the successful payment on their registered email address. Now the driver can move directly to the designated parking area and park their vehicle.
Benefits of using QR codes for car parkers
Contactless and ticket-less
Using QR codes, drivers can pay as they drive, saving the time spent on stepping out of the car and getting a parking ticket
QRs usually redirect to a payment portal through which parkers can use their preferred method of payment. With GMP QR, they can choose to pre-pay or post-pay for parking sessions.
No downloads or registration required
QRs redirect parkers to a custom-branded web app, through which they can make payments. This removes the need to have an app solely dedicated to parking.
Benefits of using QR codes for parking lot managers
It is extremely easy to set up QR payment in parking lots – once you generate the unique QR code using smart parking management systems like GMP QR, you can simply stick it somewhere your parkers can see it.
The QR-based payment system is compatible with both gated and surface parking lots.
Over to you
If you are a parking space owner looking to attract more customers, upgrade your system with Get My Parking's GMP QR.
Our system takes just 30 minutes to set up and integrates seamlessly with your existing equipment. Once set up, you will be provided with a unique QR code, which will redirect parkers to a custom-branded parking app.
GMP QR also lets you configure promotions, discounts, and tariffs easily. And if you face any glitches along the way, our round-the-clock customer service is always ready to help you out. So, why wait?
Connect with us to know more or to book a free trial today!