What is a PV system in EV Charging?

3

min read
Reading Time:
2
minutes
Citizens of the world are taking note of the worsening air quality and climatic conditions persisting globally. So much so that the sale of Electric Vehicles (EVs) is at a high of 2.4% of the entire automotive market in the U.S. alone. Experts who have observed the rise of EVs are now recommending that governments and parking operators switch to a PV system in EV charging.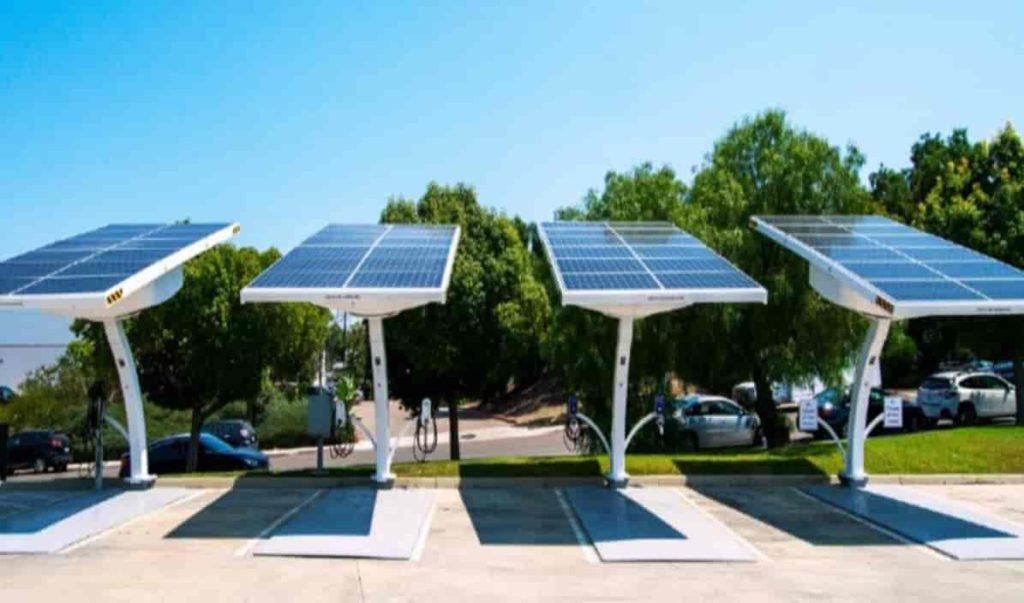 Image Credit
Experts credit this rise in EV adoption to various environmental researchers, municipalities, and tech companies. Together their efforts to sensitize the global population about the benefits of investing in alternative modes of transportation have borne fruit.
In addition, technology has gifted vehicle buyers with affordable electric cars. And, metropolitan authorities have furthered their sale by providing subsidies and free parking at busy locations.
However, all is not rosy!
The primary barrier to faster EV adoption
Sure, EV adoption is on the rise, but it can be much faster if the authorities install more EV charging stations. But, rampantly installing these stations requires certain compliances, and it's a cost and labor-intensive task.
To combat the shortage of stations, experts propose the quick installation of photovoltaic (PV) systems in bigger parking lots.
PV systems or photovoltaic systems house one or more solar panels clubbed with an inverter and other mechanical and electrical hardware that harness the sun's energy to generate electricity. 
While the PV system is more a boon than a bane, it's not free from its challenges. Using PV system in EV charging, puts a substantial strain on the local power grid, especially from within a parking lot, as hundreds of vehicles often require charging simultaneously.
Further issues emerge from the sporadic usage and availability of solar power. For example, drivers tend to charge their EVs at night when there is no sun.
An innovative concept that optimizes PV electric charging
To make the proposal of installing PV charging stations viable, authorities would require Effective Energy Storage Systems (ESS). ESS would store and distribute the solar power collected by the PV system, thus optimizing its usage.
Authorities agree that only ESS-backed PV stations can resolve the shortage of charging stations, bring down the overall operating costs, and optimize charging schedules. These stations would also relieve the stress on the power grid.
To further optimize the ESS-backed PV parking lots, experts propose a novel parking garage management system called Energy Price Tag or EPT. EPT, at its core, is an analytical system that aims to minimize charging costs.
EPT analyzes varying parameters such as,
A vehicle's arrival time
Interruptions in the charging process, if any
Electricity charging source
Solar energy availability
Use or unidirectional or bidirectional energy flow to and from the grid
EPT is a useful metric that provides a workable strategy for optimizing the ESS and PV-powered EV charging stations. It essentially evaluates the total cost of energy stored devices.
Parting thoughts
The sensitivity towards poor air quality alone is not enough for a spike in EV adoption. Authorities must make this option more sustainable by including EV charging stations in all parking lots.
With widespread EV infrastructure and affordable electric vehicles, more people would buy into the EV economy.