Protests Bring Down Parking Fees in Bengaluru

3

min read
Reading Time:
3
minutes
Nothing can hinder justice when citizens get together to fight for it. The residents of one of India's metropolitan cities proved this when they brought down high parking fees in Bengaluru at three locations by busting a racket. These locations include the Jayanagar Shopping Complex, Indira Gandhi Institute of Child Health, and Sri Jayadeva Institute of Cardiovascular Sciences and Research.
Thanks to their activism, the local police has now lodged an FIR against the parking attendants and the Bruhat Bengaluru Mahanagar Palika (BBMP) Assistant Revenue officer. Members of the Karnataka Rashtra Samiti (KRS), the primary force behind busting this racket, went live on social media while they were forced to overpay for accessing parking lots within these three locations.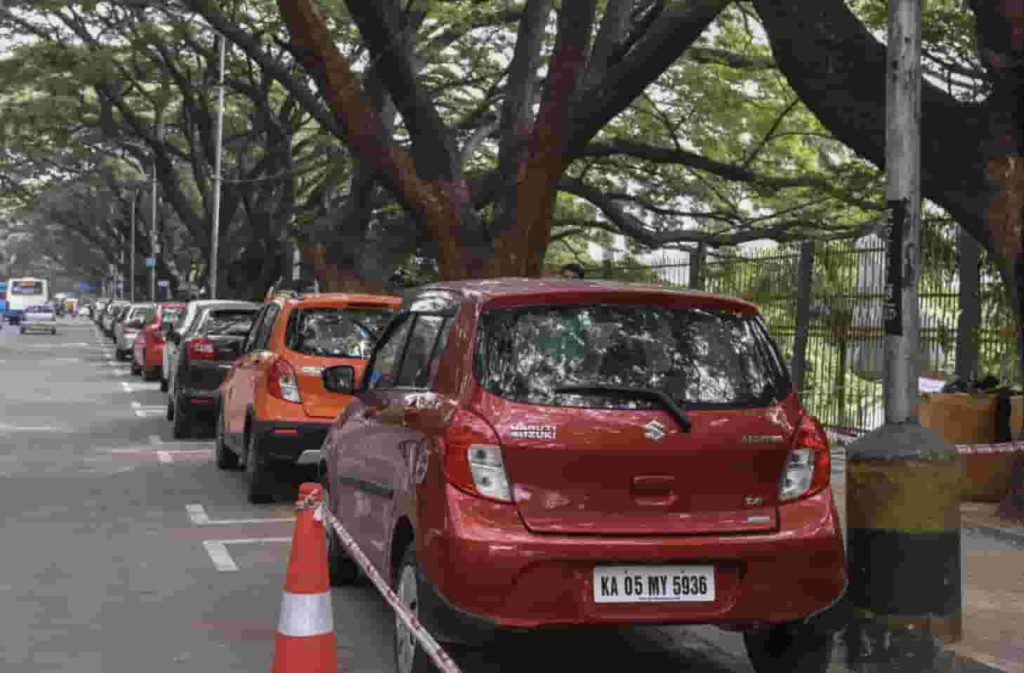 Image Source
The monetary extent of the crime
The live videos of attendants charging hourly parking fees of Rs. 20 for two-wheelers and Rs. 40 for four-wheelers went viral. The government-approved hourly price for parking in these three busy locations is just Rs. 10 for two-wheelers and Rs. 20 for cars.
Busting this racket was critical, as at least 4000 vehicles park in these neighborhoods every day. Imagine the quantum of revenue the attendants and certain officers were pocketing, which otherwise would've gone to the state government for empowering the city's parking and road infrastructure.
While the parking attendants have lost deniability of their crime, the BBMP Assistant Revenue officer, Shivakumar, has claimed that he had no idea of this racket. He added that nobody complained about the discrepancy in the parking fee until the KRS activists went live busting this racket. To aid the police in their investigation and exonerate himself, he has handed over the billing machine used by parking attendants.
Also Read: The New Parking Policy 2.0 for Bangalore: City Parking Permits
Corrective measures underway
The busting of this racket revealed the lack of transparency within the system. Drivers never complained about the parking prices because they had no clue that the attendants were duping them. To remedy this, relevant authorities have already begun to take corrective measures.
The Sri Jayadeva Institute of Cardiovascular Sciences and Research has replaced their old parking contractor with a new one. A board specifying the correct parking rates for a stipulated amount of time has gone up in the hospital premises.
Dr. C.V. Manjunath, director of the hospital, has written a formal letter to the new parking contractor stating that parking receipts must contain vehicle number, entry and exit time, approved parking fee charged, and the GST number.
Moreover, relevant authorities have also committed to keeping a watchful eye for parking overcharging, so they can take immediate action against perpetrators with an intention to charge more.
Summing up
It's excellent that the KRS activists' efforts have borne fruit, and the racket has been busted. But, it's prudent to think about what empowered parking attendants and officers to get away with overcharging in the first place?
From the matter at hand, it's not that hard to deduce that lack of intelligent parking systems and heavy reliance on cash payments was one of the root causes. If these parking lots had smart surveillance with automatic electronic deduction of payments, the entire system would be far more transparent.
Put simply, without amply relying on cost-effective smart parking technologies, authorities will remain vulnerable to such rackets in the future.