What is Mercedes Parktronic?

4

min read
Reading Time:
3
minutes
Could there be anything worse than struggling with parallel parking to an extent that you end up with 18 failed manoeuvres over a span of seven whole minutes? Yes – failing at parallel parking while driving a Mercedes Parktronic, and then the video going viral, as it happened with a lady in the UK.
However, struggling with parallel parking is not uncommon at all. Most drivers feel the pressure building and the adrenaline rush increase when all they can spot is a far-from-generous tight parking space with cars parked on either side.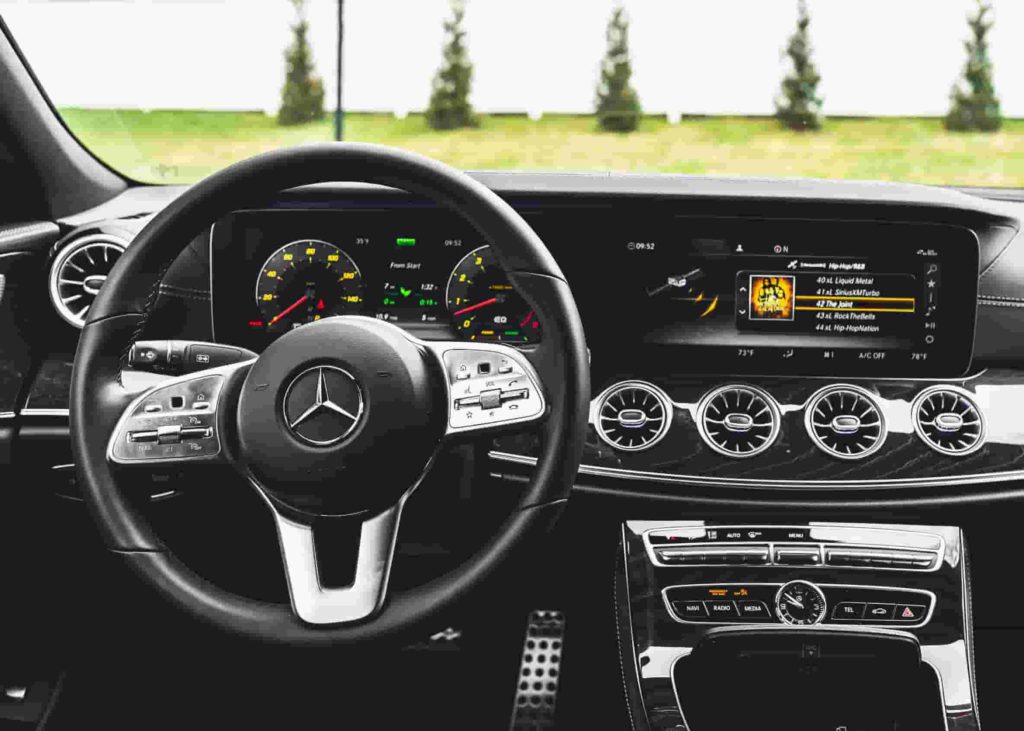 Automakers have taken note of these driver struggles and to make the parking experience a stress-free one. Several Advanced Driver Assistance Systems (ADAS) are being installed in cars that guide drivers not only to a suitable parking spot but also assist them in parking well.
Mercedes-Benz, the famous German automaker has also introduced a rather unique driver-assistance technology to help its users in manoeuvring with ease – the Mercedes-Benz Parktronic with Active Park Assist.
What Exactly is Mercedes Parktronic?
A part of the automaker's parking pack of driver-assistance technologies, Mercedes Parktronic feature warns drivers of obstacles lying on the front or the back of the car that can meddle with proper parallel parking of the SUV. This feature is a standard on some of the Mercedes-Benz models and an option on some others. The technology is somewhat similar to traditional parking sensors.
Parktronic often comes combined with 'Active Park Assist' – technology that controls the steering wheel during parallel parking to make the process smoother and easier. These two combined features in tandem with reversing cameras, 180° or 360° camera views (depending on the model), and arrows that show parking spots suitable for the car's size, aim at making parallel parking a breeze.
What Function does the Parktronic Perform?
In simple terms, this driver-assistance parking technology offered by Mercedes-Benz makes it easier for drivers to parallel park their SUVs. The system will point out parking spaces as you drive past them – these would be those spaces that the Parktronic considers to be a suitable parking spot for your SUV. Then, another part of the system will enable you to carefully and properly manoeuver into the available spot.
How does it Work?
Mercedes-Benz's Parktronic is not only a safety feature but also a convenience feature. Getting in and out of tight parallel parking spaces is still a challenge. Even experienced drivers can find themselves overwhelmed at times and to ease the entire process, the Parktronic comes with a tried-and-true parking sensor technology. There are six ultrasound sensors mounted on the front of the car and four that are mounted at the rear.
Based on the presence or lack thereof of obstacles in the SUV's vicinity, these sensors make audible caution noises and also visual signals on the instrument cluster to warn drivers of potential danger. Though drivers can still have a fairly clear view of the hindrances present on either side of the car, spotting any at the rear end becomes a challenge. The sensors come in handy with their instant notifications.
However, it is still recommended that drivers do not allow their attention to waver completely as the Parktronic is also a parking assistance feature and as such, some obstacles may not be detected by the sensors.
An added feature to the standalone Parktronic technology, the Active Park Assist feature controls the steering during parallel parking but the gears, brakes, and throttle are still under the driver's control. This feature of the parking package can be turned off at any time simply by pressing the Parktronic button found on the dashboard.
How do You Use Both?
The first step that you need to do is to select the Parktronic feature. Immediately, the Active Park Assist system will look for a suitable parking spot for your Mercedes-Benz. Once space has been singled out, the system will prompt you to put your car in reverse. Putting on reverse will automatically turn on the rear-view cameras. From here onwards, the Parktronic will warn you of any obstacles via its cameras and sensors whereas the Active Park Assist will take control of the steering (working simultaneously) so that you can apply brakes wherever required.
Mercedes Models that Offer this Park Assist Feature
Out of all the models Mercedes-Benz has to offer, the following models come with the Parktronic Park Assist feature –
Mercedes-Benz C-Class
Mercedes-Benz S-Class
Mercedes-Benz GLC and
Mercedes-Benz G-Class
Parking, especially parallel parking in tighter parking spots is one of the less fun aspects of driving. However, Mercedes-Benz has lifted off some of this burden from its users' shoulders. Though drivers will still need to be alert at all times, the system can and does effectively help in making parallel parking an easier experience.