What will the Parking Lot of the Future Look Like?

4

min read
Reading Time:
4
minutes
The Future has always been an alluring prospect of mind-boggling technological advancement. We often imagine it to have humans traveling via jetpacks and cars flying in the sky. What then will our parking lots look like? Much like the transportation industry, parking spaces will see technological innovations transforming them. In fact, such advancements have already started to show through smart parking facilities that are revolutionizing parking management.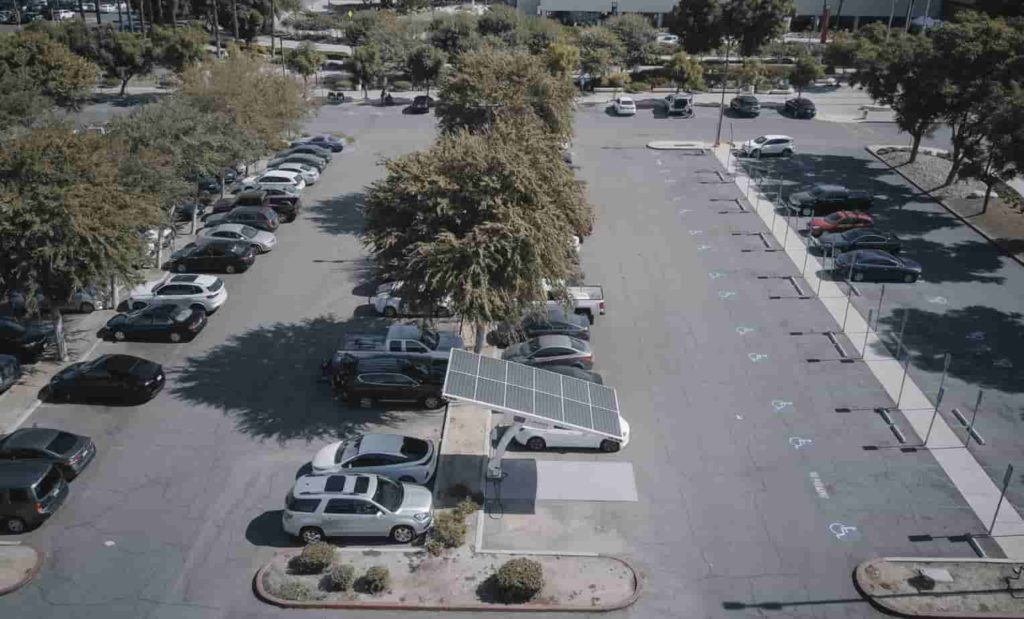 Let's take a look at what parking lots of the future hold:
1. Green Parking
Green Parking visualizes novel ways to not only cut down vehicular emissions through parking efficiency but also use green technology to help the environment and improve air quality. Green materials, such as porous asphalt can be used to pave parking lots such that water can drain through the soil layers. An effective green parking system will prevent the harmful effects of the urban heat island effect caused due to the overheating of tarmac. Green parking spaces can feature hydrogen fuel fill-up stations, LED lighting, rain cisterns or watersheds, and bioswales. Such parking lots will help in the overall beautification of the urban landscape, unlike conventional parking lots that achieve quite the opposite outcome.
Solar canopies can be set up over parking lots to generate solar energy. Plus, parking lots will be able to host charging stations for electric cars from this non-conventional form of energy generated in situ. Considering that the future of mobility could heavily involve electric vehicles, these amenities could effectively replace the old-fashioned gas stations.
2. Social Event Lots
In Western nations, there are way more parking spaces than actually required. So what happens to the copious amount of land occupied by parking spaces? The future of these parking lots does not necessarily have to revolve around isolation or demolition. In fact, they may be transformed into social places to host multi-cultural events. The Peckham Multi-Storey Car Park is one such example as it is home to the art gallery, local orchestra, and even a rooftop bar. The success of such initiatives is an example that parking lots can work as great places for social meetings.
3. Driverless Parking Spots
It is no secret that driverless cars are going to usher in a new era in transportation. Thus, it is imperative that parking spaces of the future take them into account. Self-driving technology is expected to need elaborate entry and exit points, using more space, not less, than existing lots. Already, China is working on a new urban design for accommodating self-driving vehicles and drones.
4. Convertible Parking Lots
Some are of the view that the demand for parking lots will go down in the future with the onslaught of self-driving technology. Thus, parking lots will be designed with higher ceilings such that they can later be converted into residential or commercial spaces. Despite the extra capital investment initially, these convertible garages are ideal since its real estate value can be utilized for expansion without any additional cost or renovation. If these areas are located in the front section of buildings, they can also be leased out to retailers, cafes, bars, restaurants, and other hubs of commercial activities.
Smart Parking in Future
Parking garages of the future will undoubtedly be smart – they will be designed to efficiently use space and will employ sensor and camera technologies for smooth management. Automated parking garages will use them to record the car's specifications and record their presence. Already, robotic garages are being designed to transport cars via robots with no human intervention.
Beyond garages, cities will increasingly invest in smart technologies to streamline street parking. Integrated smart parking systems will sue sensor infrastructure to alert drivers of space availability, thus reducing emissions and traffic congestion.
Future Parking Innovations Around The World
Some of the examples of successful implementation include the following:
In the Pearl West office located in Boulder, cars are transported using robotic dollies. These robotic dollies transfer the cars to cubby spaces present in the parking garage's storage vaults
Carvana is a car start-up that has a parking setup quite similar to a vending machine. The cars are stowed in vertical parking bays, and users are given oversized coins to feed the slots. Depositing the coins sets off the gears which then deliver your car
The Willoughby Square project planned in Downtown Brooklyn aims to set up an automated subterranean parking lot covering one-acre space and housing 700 vehicles. Drivers can pull into any of the 12 entrances where the plasma screens, laser scanners, and mirrors will assess where the car should be parked. The car will then be examined for dimensions using light sensors and cameras, and then it shall be lowered into the parking vault. The hoists will extract your car in perfect condition whenever you want it back
Rethinking the Parking Lots of the Future
The future will take an integrated approach to set up smart, efficient, and user-friendly parking lots. With a fast-shifting mobility landscape, parking innovations are clearly overdue. And cities are adapting to change – from automated garages to solar lots, they're investing in a smoother parking infrastructure. The future will see designers, planners, and city administrations invest in intelligent and efficient parking designs.