A one-of-its-kind EV charging technology is doing the rounds in the UK. We're talking about Papilio3 solar-powered EV charging stations that come with the perks of lightning-fast installation. The manufacturer, 3ti, has developed Papilio3 using recycled shipping containers that can be installed at any location within 24 hours. This gives them their offbeat name – pop-up EV charging stations.
How are these stations able to pop up at speed? We have solar energy to thank. Since these pop-up EV charging stations use modular solar charging units, they don't need to plug into local grids.
Sounds too good to be true? Well, the company has already installed the first Papilio3 at Surrey Research Park in Guildford, UK.
What makes the Papilio3 a game-changer? 
Given how quickly 3ti can install these charging stations, EV owners will be able to find them at many locations. With increased availability, EV owners won't have to wait for nighttime to charge their vehicles. They will be able to plug in their cars while at work or leave them to charge while they're at the mall. But that's not all.
Image Courtesy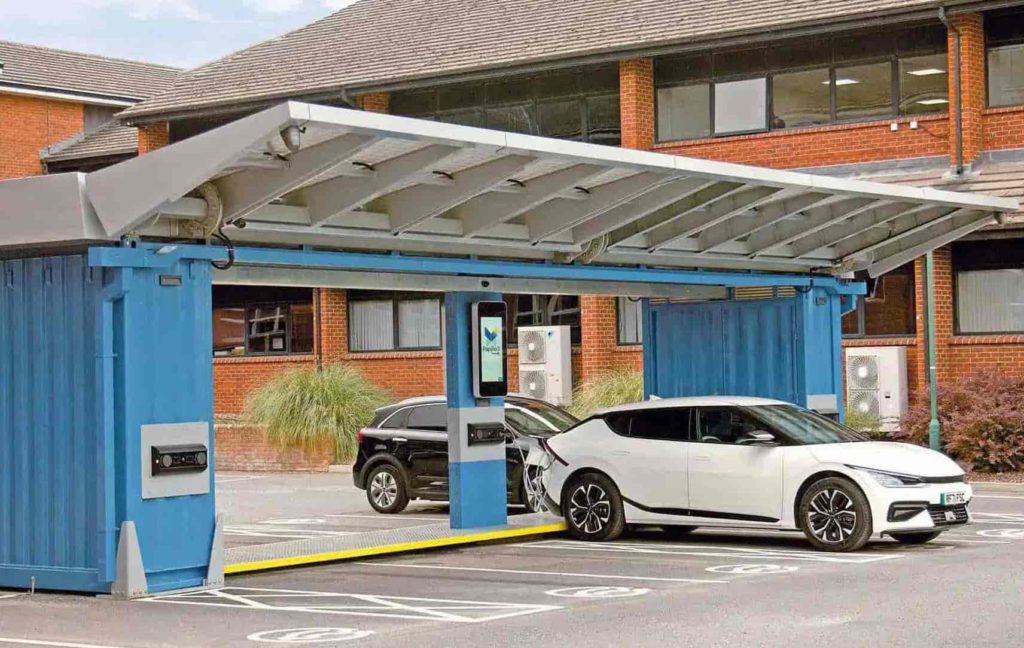 Here are five more salient features of the Papilio3 pop-up EV charging stations.
Charges multiple vehicles together 
This pop-up EV charging hub can charge up to 12 electric vehicles on-site. It also comes integrated with a smart back-office management system called Fuuse. This ensures the availability of seamless charging for all types of electric vehicles.
Stores a substantial amount of charge 
The Papilio3 can store up to 250 kWh of solar energy to charge EVs. This is more than enough, considering an EV requires only 30 kWh to travel 100 miles. In fact, most EVs have a battery pack that ranges between 24 kWh to 200 kWh. This includes pocket-friendly EVs like the Volkswagen e-up as well as luxury EVs like the Hummer EV pick-up truck.
The Papilio3 features movable modular charging hubs, which customers can rent when they charge their vehicles. This saves them the substantial cost of purchasing charging hubs. All they have to do is drive into the Papilio3 pop-up EV charging station, rent the charging hub and plug their vehicle in.
Each of the 12 charging units within the pop-up charging station is individually lit and have a dedicated parking space. This makes it safe for EV drivers who want to stick around until their vehicle is fully charged.
While EVs are a sustainable transportation solution, their charging mechanisms are not. They consume copious watts of electricity from the local grids. The Papilio3 pop-up charging station resolves this issue since it's fully powered by solar energy.
Also Read:
Govt. Plans to Introduce 300,000 New EV Charging Stations in the UK
The final word
The primary hindrance to EV adoption is no longer the price of the vehicle but the lack of EV charging infrastructure. It takes both time and capital to install a network of shared EV charging stations. The Papilio3, however, is powered by solar energy and takes only 24 hours to deploy. This makes it a true game-changer for organizations that wish to sell EVs or offer EV charging facilities to customers and employees.
Safe to say, it's a win-win when tech companies find ways to deploy EV charging infrastructure quickly and without compromising on sustainability. Papilio3 is just a start in this direction!