With the pandemic transforming how we socialize, a new trend seems to be on the rise – drive-in experiences. Be it Alfresco cinemas or parking lot concerts, these events are designed to keep the audience safe while keeping things fun and exciting. From stand-up comedy to drag shows, you'll definitely find a drive-in event that interests you. Adding a twist to this trend is The Parking Lot Social.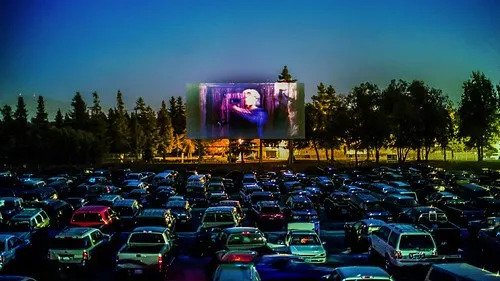 Launched by Grahame Ferguson and Cameron Craig, The Parking Lot Social is a family-friendly touring festival. It offers a wide range of activities in cities across the USA, UK, and Australia.
The event strives to offer something for everyone by packing oodles of entertainment into one amazing night out.
The touring experience features bingo games, live bands, food trucks, movie screenings, comedy acts, silent discos, DJ battles, car-a-oke sessions, and theme-based trivia contests.
The event broadcasts its on-stage interactive entertainment straight to your car, allowing you to enjoy the show with the rest of the audience while maintaining a safe distance.
What happens at the event?
The schedules for the event differ from city to city, but there are many activities and shows for people across age groups and interests.
You can enjoy live bands and disco nights on Fridays, kid-friendly programs on Saturday afternoons, and family-friendly activities on Sunday evenings. The three-hour show tours the entire country and allows you to have a great time from your car.
The Parking Lot Social features a blend of classic and contemporary entertainment options, giving a safe and fresh twist to live entertainment. When you arrive at the location, you will find a 52-ft-rainbow-shooting fire hydrant, two 40-ft screens, and two inflatable Parking Lot Social gorillas. Local food vendors will serve delicious meals straight to your car while you enjoy the event.
What kind of activities can you expect?
The drive-in tour includes exciting activities that will compel you to get out of your house and have an incredible time. Here's a list of everything you can expect-
Participate in a massive karaoke with live DJs and two giant screens. Sing at the top of your heart's desire and come together in a mass singalong.
Put on your wireless headphones, select the DJ of your choice and dance the night away in a parking lot.
Enjoy live DJs and their occasional battle right from your car.
From cult classics to family-friendly blockbusters, enjoy a movie night in the open outdoors.
Enjoy a game of classic bingo with a unique twist and win prizes.
A daytime special entertainment activity for a fun experience with family.
A dedicated comedy night to help you relieve the stress. Enjoy the stand-up or anything that makes your stomach hurt.
Test your trivia skills on different themes and subjects and take home exciting prizes.
Read Also:
Drive-in Concerts – Bringing Back Retro Music Trends
Final word
Don't let social distancing decide your social schedule. Whether you're looking for an immersive experience with your friends, kids, or partner, you'll find something of interest at the Parking Lot Social.
Keep an eye out on their website for schedules, guidelines, and online tickets.